RevContent Widget Optimization
What is RevContent Widget Optimization?
RevContent allows you to bid on individual widgets, and with Fire & Forget® you can optimize individual widgets as well. Click here to read our RevContent documentation.
To learn more about manually bidding on widgets outside of Fire & Forget, click here.
How Does RevContent Widget Optimization Work?
If Fire & Forget is enabled and you have enabled Widget Level Optimization (None and Acceptable Profit Modes) or you are using CPA Goal widgets will individually optimize based on the current site optimization settings.
During any CPC
Day Parting
windows and
Slow Amount
,
all widget bids will be removed
in the same way that all site bids are removed during these two situations for other networks.
If you have a widget bid placed on a widget, campaign level optimizations will not change that bid. Only once the widget reaches sample size will it be optimized on the widget level.
Widget Block EPC
With Fire & Forget you can also block underperforming widgets. If your site Sample Size has been met in the Look Back Days you have selected, you can block widgets that have been underperforming by editing the value here.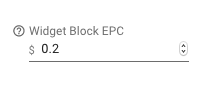 Set Widget Block EPC to $0 if you do not want to use this feature.
How To
Set Widget Acceptable Profit
Click the Widgets tab:


Set the Sample Size:


Set the Acceptable Profit:


Set the Lowest Bid and the Highest Bid (minimum and maximum CPC Maximus will set on a site):

Set Widget Block EPC
Click the Widgets tab:


Set your desired Widget Block EPC:

Edit using CPA Goal Mode
You can edit the Site Acceptable Profit % with CPA Goal on the Pro Plan - switch to Acceptable Profit Mode and edit the Site Acceptable Profit %, then switch back to CPA Goal Mode and submit to save your changes.
You can also edit the Widget Block EPC with this method by switching to Acceptable Profit Mode and editing the Widget Block EPC value.
When editing the values for CPA Goal Mode, please remember that Look Back Days are set to Today so your optimizations will be using this data.
Common Uses
Using site and widget bidding together will help optimize your campaign in the best way possible to maximize profits and reduce loss. With Widget Optimization you can have your campaigns now optimize by the individual widget placement, giving you better control of your optimizations.
Users will be able to have Fire and Forget block under performing widgets when using acceptable profit (not during CPA goals) the user will input a min EPC and any widget that meets min clicks and does not meet the min EPC will be blocked.
---
---