Taboola Marketing Objective
The Marketing Objective feature gives Taboola users the ability to set their Marketing Objective (goal) from Maximus. Marketing Objective can be set to one of the following:
Brand awareness
Lead generation
Online purchases
Drive website traffic
Mobile app installs
To learn more about what Marketing Objective is, read Taboola's official page by
clicking here
. This is a label you can place on your campaigns to use as a reference when you want to look at campaign stats - which are important to this campaign and need to be focused on.
Marketing Objective in Maximus
During the Add Campaign process you can select which Marketing Objective you want to use during the Campaign Details section of the process.

You can also edit the Marketing Objective on the Campaign Details page for Taboola Campaigns by clicking on the Taboola Settings menu option.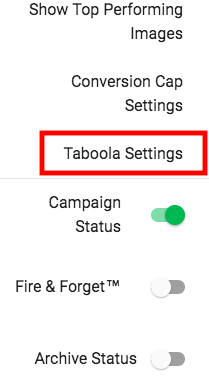 ---
---