Outbrain Settings
OS Targeting in Maximus
The OS Targeting feature gives Outbrain users the ability to have their campaigns target users on specific operating systems. OS Targeting can be set to any combination of the following:
Android
iOS
Mac OS X
Windows
During the Add Campaign process you can select which OS to target during the Campaign Details section of the process.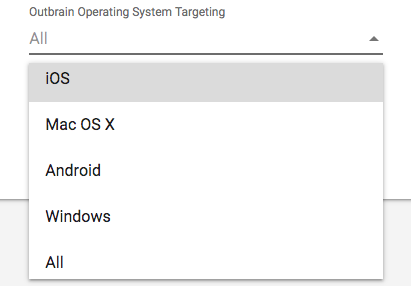 You can also edit the OS Targeting on the Campaign Details page for Outbrain campaigns.

Both of these can be done without having to log in to your Outbrain backend and edit the OS Targeting for every Outbrain campaign you're trying to manage! At this time Maximus supports only the OS Systems.
Exclude AdBlock Traffic
During the Add Campaign process you can choose to exclude AdBlock traffic for your campaign, as well as update this setting on existing campaigns in the Update Outbrain Settings menu option.

If you toggle this on to exclude AdBlock traffic, your campaign's ads will not serve to those who have AdBlock enabled. Outbrain notes that you may still receive a very small volume of traffic if they are unable to identify if AdBlock is being used in some cases.
Enables you to exclude users who have ad-blocking software installed. We do our best to ensure your content isn't served to these users. However, when users target specific publisher sites, we are unable to detect an ad blocker, which may result in a small portion of traffic coming from these sources.
---
---