Gemini Domain Report and Blocking
Overview
The Gemini Domain report displays the domains from traffic on Gemini campaigns. Domain information is received from Gemini via click and the domains listed in the report are from macros that Gemini populates on click.
The report displays information like the Gemini Sites report but with the domain instead.
After a certain amount of blocked domains, Gemini requires the campaign Minimum CPC to be set to $0.10. To prevent any issues with your campaign falling below this CPC if it is required, we recommend using
None Optimization Mode
, disabling
Desired Click Pacing
, and not utilizing
CPC Day Parting
to prevent potential problems which would drop the CPC and effectively remove your domain blocks on the campaign on the network.

Domain Reporting will only work for Gemini ads created after May of 2019.
Blocking
In this report, you can click on the arrow to expand the row beneath the domain to reveal a Block button. Click this button to block a domain. Blocked domains will appear with a red line through them, and you can unblock the domain by clicking the Unblock button for that domain.
You can block a maximum of 500 domains. If you reach the domain blocking limit, a banner will appear letting you know you've reached the domain blocking limit. Please remove some domains if you intend to block others at this point.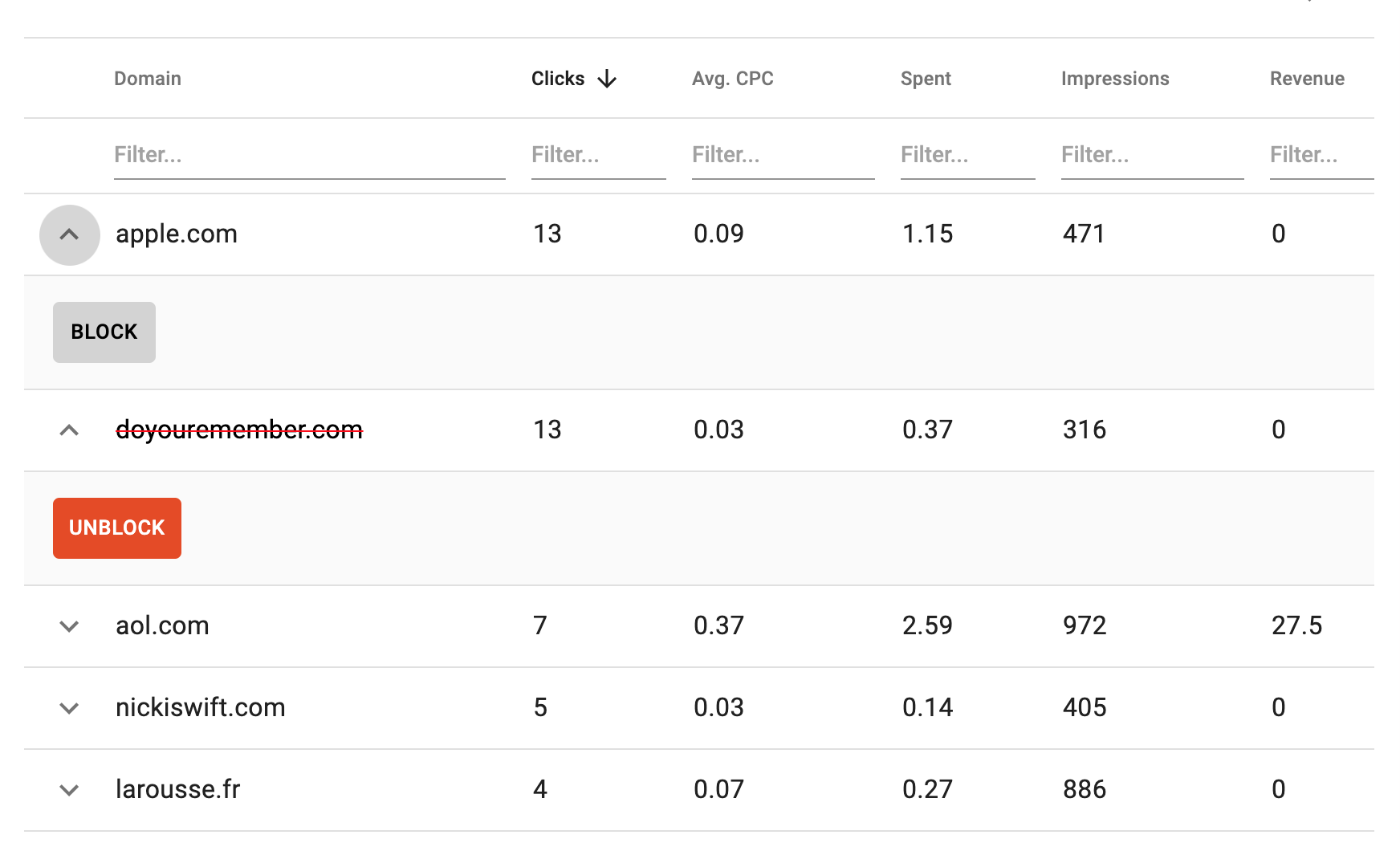 You cannot block Verizon Media property domains. The Block button is still visible, but you will not be able to utilize it.

We have disabled the block button for these domains but there may be a few additional that are under the Verizon Media umbrella that we will modify to disable blocking which we have yet encountered.
Block Threshold
After blocking a certain volume of domains, Gemini will determine that you are blocking too much and it will create a requirement that the minimum bid on the campaign must be doubled, which results in a $0.10 minimum CPC bid.
We are still evaluating how this functions and triggers on campaigns - so please be aware that this may go into effect when blocking too many domains.

For this reason, we ask that you please only perform domain blocking during regular hours so we can be available to assist in case any issues arise.
As this is a new feature by Gemini and a new way to operate it via API we thank you for your patience while we continue to better this blocking feature.
---
---