Adding a Campaign
To start a new campaign, click the Add Campaign button in the top navigation menu.

There are six steps to adding new campaigns: Network & Targeting, Links, Fire & Forget, Ads, Copy Site Bids and Review.

---
1. Network & Targeting
The first step, Network & Targeting, is split into two parts.
1a. Network Select

The first step is to select the network on which your campaign will run. You may select any network that has been integrated with your Maximus account. The network selection options are:
When adding a campaign you may select multiple networks. When you submit your campaigns, they are sent to each network individually.
Do not use Push Notifications with RevContent, Maximus does not support Push Notification campaigns.
Gemini has unique settings. If you select this network, Maximus will provide an additional final step where you can adjust
Gemini settings
.
For additional information about targeting with different networks outside Maximus, click here.
Revcontent has added a feature called Pacing that throttles the traffic you get to spend your budget evenly throughout the day. By default Maximus campaigns will submit to the network with this feature disabled. We recommend keeping this disabled as it will interfere with a campaign's ability to scale, and features like our Desired Click Pacing.
1b. Campaign Details
Maximus supports targeting by country and platform. Under the Network & Targeting section, there are several fields in which you can customize your campaign: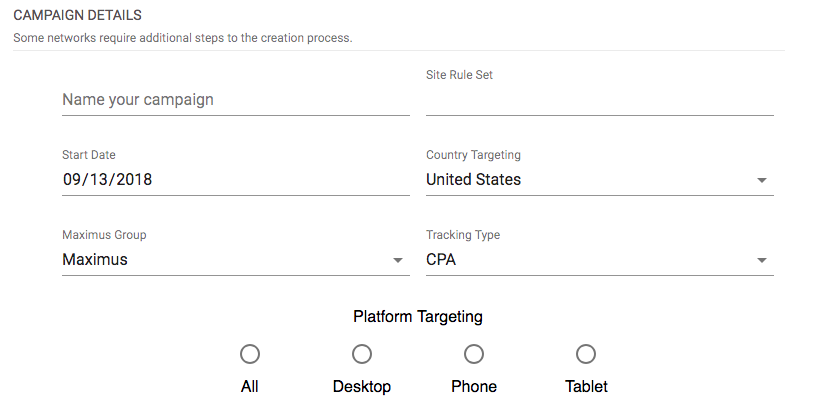 Gemini campaigns must select either Desktop, Phone, Tablet, or Phone + Tablet in order to use Fire & Forget optimizations
Once this information is entered, you will be able add your links in the second step.
2. Links
Follow the prompts to set up a Review Page and presell Links for your campaigns.
Click here to learn more on the difference between the review page and the presell link and link weighting.
3. Fire & Forget®
Fire & Forget is split into two sub sections: Budget & CPC & Fire & Forget.
3a. Budget & CPC
You can also edit the budget and CPC after campaign creation. Click here to learn more about editing the budget and CPC.
3b. Fire & Forget
Fire & Forget optimizations allow for users to set goals and boundaries which Maximus will use to automatically scale campaigns based on performance.
This section is split into three sub sections - Campaigns, Sites and Day Parting.
Fire & Forget: Campaigns
Maximus will start optimizing the campaign once the Sample Size amount is reached (before Sample Size is hit, Maximus pulls data on EPC and overall performance). Click here to view the Fire & Forget flowchart.
Fire & Forget: Sites/Widgets
In addition to setting goals at the campaign level, Maximus also lets users set goals at a site level. This means Maximus can simultaneously optimize campaigns on two separate levels. Revcontent campaigns replace the word Sites with Widgets but optimizations happen similarly to Sites optimization
CPA Goal does not have a Sites or Widgets section.
Click here for more information on Fire & Forget.
Fire & Forget: Day Parting
Day Parting allows users to set a static bid and drive an increased or decreased amount of traffic during a set time period. These time periods can also be set to pause a campaign. You can also set a specific budget, and also an Acceptable Profit percentage to use with Advanced day parting
Maximus has robust day parting features that allow you to specify day, start time, end time, CPC, and action. For example, if you notice a campaign performs poorly over the weekend, you can pause it or lower the CPC during that time to drive less traffic, protecting your budget.
4. Ads
The Ads section of adding a campaign is where images and text are added and uploaded for the campaign.
Depending on the network, some additional options may be visible on this page.
For Gemini, you will need to enter:
Generating Ads
Our ad generation tool lets you add images and text and creates all the combinations possible to help you speed up your campaign creation process, and it helps when you're testing out creatives too!
You can drag and drop or click in the gray box to upload images here. Once an image has been added, it will appear inside the box. If you haven't entered any text, you'll see that you need to add at least one image and one title (and one description for Gemini campaigns).
You can generate a single ad by entering one line of text into the Ad Title field. For each line of text you enter, you will see a new line appear underneath it allowing you to enter more than one title. You can continue adding as many titles as you want - and images too!
You can remove images by clicking on the Remove file button underneath them and remove text lines by clicking the Minus button next to them.
Once you have the right number of Images and Text you want to add, click on the Generate button to create a combination of ads. Maximus will generate an ad for each combination of image and text.
You can also generate more ads during this step after generating the first combinations. Add as many ad combinations as you want to test out for your campaign.
If you have errors when submitting the image and text for an ad, please check the text to make sure no special characters are present. A common example of this is using quotations marks copy and pasted from somewhere that formats them to curly quotes.
Each network has unique guidelines and recommendations for images and ad text. If you are creating a campaign for multiple networks, adhere to the requirements of the network with the largest image size standards. Images will be sized down to fit other networks. Images will not be enlarged. Depending on the original image ratio, images may not be resized properly.
Please see the chart below for image size and title length requirements by network. Maximus accepts most common image file types.
*In addition to the 1200x627 rectangular image, Gemini also uses a 627x627px square image. This is because different images are shown when viewing the ad on mobile, tablet, and desktop platforms. After adding an image in Maximus your rectangular image must be cropped to the 627x627 square image. Upon submission of the ad, both versions of the image are sent to Gemini.
Taboola also allows you to add animated gifs to your campaigns. Gifs must be over 400px x 200px, less than 3MB, and have a .gif extension.
Ad Text Tokens are dynamic tokens that can be added to the ad text. These tokens allow for different ad text to display based on the user profile of the person viewing the ad. These tokens vary by network. Using Ad Text Tokens, you will be able to customize things like location (city, region, zip code, etc.) or day of the week in your ad text. For more information about how to insert ad text tokens, click here.
5. Gemini Settings
If you run a campaign on Gemini, this is the extra information you will need to include before your campaign goes live. The Gemini Settings are unique to Gemini and must be set separately
This page is only seen for Gemini campaigns.
5/6. Copy Site Bids
6/7. Review
On the Review step, you'll find key information from your campaign displayed. This is either step 6 for Outbrain, Taboola, RevContent, and Content.Ad campaigns, or step 7 for Gemini campaigns. From here you can see the Campaign Name, Platform Targeting, CPC, Budget, and the number of Ads the campaign has.
You can edit the Campaign Name, Platform Targeting, and CPC from this page as well.
Click on Finish to create your campaign and the following pop up displays.
There are two options: Go to Manage Campaigns and Create Another Campaign
Click Create Another Campaign if you would like to create a new campaign from the beginning of the Add Campaign process.
Clicking Go to Manage Campaigns will open the Manage Campaigns table to view your new campaign!
---
---